Why are portable goals beneficial to fixed goals?
There are many benefits of investing in portable goals for your club.
Ground staff can quickly move portable goals on and off the pitch
Portable and foldable goals can be moved to one-side maximising space for more than one match or multi-sports
Easier maintenance due to the portable goals being moved away/ stored inside when not in use
Added security as they can be locked away when not in use
Portable and foldable goals are easy to carry, transport, and quick to set up
Suitable for external and indoor use
What portable goals does Mark Harrod Ltd sell?
DEVOSHIFT
We worked closely with Premier League football clubs to develop our latest portable goal – DEVOSHIFT. Featuring a unique locking system, the goal can be lifted and lowered instantly and safely. Once lifted, the goals can be moved in ANY direction, which is unique to moveable goals as they typically only move forwards and backwards. This benefit allows goals to be removed from pitches and stored where a gated entrance has prevented this before.
View our DEVOSHIFT goal packages here.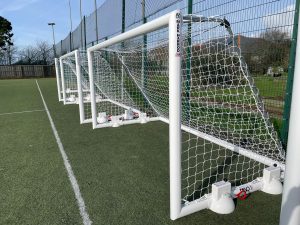 DEVOLIFT
Our popular DEVOLIFT goals have a more traditional lever system that locks the wheel and lifts the goal upwards. This easy-to-use goal has been designed to have minimal moving parts on the outside to prevent any accidental injuries from sheering, crushing and entrapment when raising the goal. The newly designed wheel system conforms to all the latest British Standards.
View our DEVOLIFT goal packages here.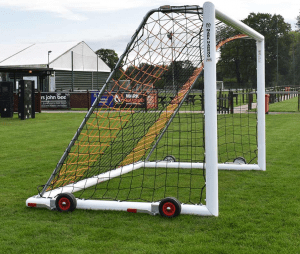 Folding Football Goals
We supply a wide range of foldable goals that are lighter and easier to move than traditional goalposts. Folding features allow the goal to be stored in more confined spaces, which is great for pitches where the goals need to be taken away after a game. Available in multiple sizes, our foldable goals are perfect for indoor sports halls, normal football pitches and gardens.
You can view our range of foldable goals here.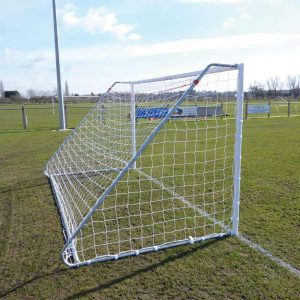 Wheeled Football Goals
We supply a wide range of wheeled football goals that provide easy transportation for multi-use pitches where goals aren't always required. The high-quality, sturdy wheels make moving goals as easy as ever. They are perfect for busy football grounds that have tight schedules between training and matches.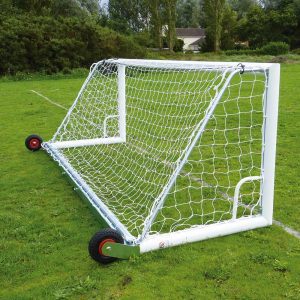 View our full range of Portable Goals here.
If you're in need of an upgrade with your goals, our selection of portable goals gives you a great range of options to choose from, whatever your facilities are. Get in touch with our friendly, knowledgeable sales team today for any questions you have about our moveable goals. They'd be happy to help.
01785 594421
INFO@MARKHARROD.COM
#jointhewinningteam
[ssba]