On Tuesday Mark Harrod Ltd employee Pete Robson was listening to the Chris Evans BBC Radio 2 Breakfast Show. He heard 9 year old Tobey Ferguson explaining to Evans that his school's football goalposts had been vandalised and that his game had ended 0-0 because the only goals his team had to use now were miniature ones. Touched by this story, and knowing how passionate Mark Harrod Ltd is about supporting grass roots sport, Pete immediately texted the show to offer their help. Twenty minutes later he was on air, talking to Chris Evans and 9.91 million listeners, to tell them that Mark Harrod Ltd would donate a set of £600 goals to the school.
The story has grown and taken over the Chris Evans show over the past few days. Yesterday one of the team drove the 200 miles to Tobey's school in Winchester to install the goals. While they were there they met with Chris Evans who presented the goals to the children of the school.
Mark Harrod Ltd is now in talks with Chris Evans and the organisers of his annual summer Children in Need CarFest about making a GoalFest competition part of this major charity event.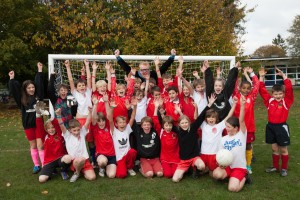 [ssba]