We're excited to introduce our new series 'Get Involved' as part of our push to help inspire, motivate and get people involved in the world of sport! For this series we are diverting our attention away from those already involved in sports (just for now) to help those who aren't!
It's only right that we kickstart 'Get Involved' with Football. So, if you've been contemplating on whether to join a football club – we can help. Carry on reading to find out more about all the different types of football out there and learn how you can get involved!
Why Football
Before we break down all the different types, why choose Football?
If you're looking to join a sport for general fitness and fun then Football is way up there. Football is great for getting your entire body moving. Players sprint, tackle, dodge, jump and kick so it's a great sport to take part in whilst getting an all-round workout. Stepping aside from the physical benefits, it also offers you the chance to socialise, build self-confidence and develop your teamwork skills.
If you are looking to get into football for health reasons then gaze your eyes on some of the wonders which football can offer the body:
Improves Cardiovascular Health
Lowers Body Fat and Improves Muscle Tone
Increases Cognitive Brain Function
Builds Muscle Strength
Improves Aerobic Capacity

Get Involved in:
Junior Football
For kids and juniors, the easiest way to get involved is at school. Whether it's an after-school club or a quick game on the playground, there is always a football game happening nearby. If your school doesn't have its own team then try searching around your local area – there is always one near! Or if you have a friend that plays football ask to go to a training session with them or offer to go and support his/her team on game-day!
If you're struggling to find a club that's near you, the English FA have a County Football Associations page which has lots of information and contact details to different clubs across the UK! Check it out here.
Adult's Football
For adults, getting into football is much easier as clubs are often looking for new players to join. The best way to get involved is to turn up on game-day and ask the organiser if they need an extra body. With this in mind, there are many variations which you can choose from.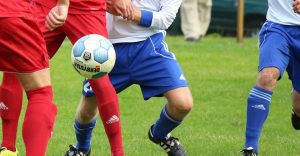 5-a-side – This variation of football involves only 5 players per team and a smaller pitch, smaller goal and reduced game duration. 5-a-side football can be played indoors and outdoors and may be within some sort of enclosed barrier to keep the ball from leaving the pitch and disrupting the game.
6-a-side – When compared to 5-a-side football, this variation has very similar rules and format of the game but involves 6 players (rather than 5) and an increased pitch size.
7-a-side – Again, this has an even larger pitch and 7 players.
11-a-side – 11-a-side football is the most popular type and is for players aged 14 and over. An 11-a-side football goal has dimensions of 24ft x 8ft.
Women's Football
The women's game is growing rapidly with roughly 1.4 million women and girls playing, there is no doubt that football is now the most popular female-team sport.
All around the UK you will find schemes designed to help get girls onto the pitch and get involved! Each Football Association across the country has information to help encourage women to play football and there will likely be clubs near you who are women-only. Find your nearest Club here.
Disability Football
It's now estimated that in every 5 people, 1 will have a chronic illness or a disability. For the majority of these people, exercise is vital but also extremely hard to do. Fortunately, disabled football is super popular across Britain and it's actually quite easy to get involved. With a range of different groups and opportunities out there, the disabled football world is growing rapidly.
Football is a great sport to get involved in, providing the body with an all-round workout and brain stimulation, it has a never-ending list of benefits!
In the UK, disability football has two categories: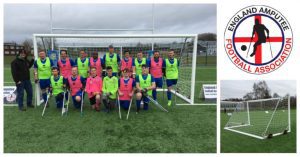 Pan-disability football – This type of football is made up of a broad selection of players. It allows people with a wide range of disabilities and physical aliments to all compete together! Usually, pan-disability excludes players who may be blind or confined to a wheelchair.
Impairment-specific football – This category is aimed at players with very similar disabilities. Because of this, it means that each impairment has its own rules depending on the players needs and abilities.
The England Amputee Football Association provides all amputees with the opportunity to play football locally, nationally and internationally. Mark Harrod Ltd regularly donate to the charity to help support the England team in international competitions and training weekends.
Competition
Both categories have local and international competition in which millions of people are involved in. You can find competition for seven forms of impairment:
Blind
Partially-sighted
Learning difficulties
Powerchair
Cerebral palsy
Amputee
Deaf
The FA website has lots of information about the various types of disability football – see more here!
Walking Football
Walking football is aimed at keeping adults involved in football. Whether its due to lack of mobility or other reasons, walking football means that it's less physical strain on the body but still very enjoyable to play. Aimed at people over the age of 50, walking football can be played both indoors and outdoors.
The key rule that differentiates standard football with walking is that if a player runs then they concede a free kick to the other side.
You can find out more information and where your nearest Club is here!
Coaching & Volunteering
Whether you're young or old, coaching is an option for anyone. If you used to play football in the past then you can use your abundance of skills and knowledge to help out a local club. Alternatively, if you just want to learn how to coach a team then head down to your local club and ask.
Clubs are always looking for volunteers so, whether you're on the pitch or sidelines you can still get involved!
Now you know all the ways in which you can get involved in football. Mark Harrod Ltd supply a wide range of football equipment which includes goals, nets and a whole host of training equipment. Visit our shop to browse!
[ssba]