The second instalment of our 'Get Involved' series is on Rugby Union. This series is intended to help inspire, motivate and get more people involved in the world of sport!
Camaraderie and respect are crucial in most team sports, but none to the same extent as in Rugby. Whether it's a game of touch Rugby at school, Saturday-league clubs or the 6 Nations, Rugby Union is one of the most inclusive sports around.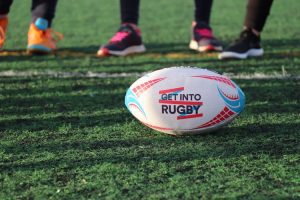 Rugby Union involves 15 players that are divided into forwards and backs. Forwards compete for the ball in line-outs and scrums and are generally bigger built and stronger than the backs. The backs are the players outside the scrum who are usually lighter built and much faster. Rugby Goal Posts are placed in the middle of the try line at both ends of the field. The posts must be 5.6m apart and at least 3.4m high.
Rugby is an incredibly popular sport for all ages, sizes and abilities. Here are the different ways you can get into Rugby depending on your skills and capabilities.
Tag Rugby
This is a great starting point for youngsters because it gives a feel for what Rugby is like – with just minimal contact.
Tag Rugby replaces tackling with a cloth that is attached to each players waist. The opponent then has to take this cloth and shout 'Tag'. Once this happens the ball carrier has three seconds to pass the ball. Children are encouraged to start with Tag Rugby but it is also open to adults. To find a Tag Rugby Club near you click here!
Touch Rugby
Similar to Tag Rugby, this is also a non-tackle game in which players touch their opponents using their hands. Touch Rugby requires very little equipment or goalposts making it a low-cost game to start. This game is very popular amongst male and female players and is a growing competition in Australia. Get involved here!
Wheelchair Rugby (Murderball)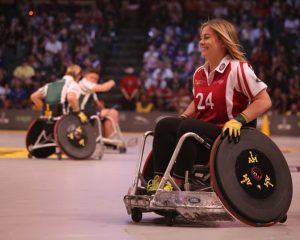 As one of the only full-contact disability sports, it's no wonder that wheelchair Rugby was one of the biggest hits at the 2012 and 2016 Paralympic Games. Open to both men and women, the game is played on a basketball court in four eight-minute quarters. Teams are made up of 12 players with four on the court at any time.
Wheelchair Rugby can be played by any athlete with a disability that affects all four limbs can play the sport which uses a classification system based on muscle function and strength.
To find a Wheelchair Rugby Club near you, click here
Women's Rugby
Every weekend, women across the country lace up their boots and chuck on gum shields to run, tackle, ruck and scrum in the name of Rugby. Today, Rugby is one of the fastest-growing female sports with twice as many playing at a club regularly in 2018 when compared to 2014.
Women's Rugby breaks a traditionally patriarchal stereotype and boosts confidence, pride and performance. Whether you're interested in playing Rugby for health and fitness reasons or you want perform at a professional level, Rugby is a sport that can be enjoyed by everyone. Find your nearest Women's Rugby Club here!
Rugby Training
No matter what type of Rugby you decide to get into, the training for all is the same. According to England Rugby, you should train between 2-3 times per week depending on your Rugby season schedule.
The best way to develop player performance is with Aerobic/ Cardio training. Increasing your heart rate will help you play to your maximum capacity for much longer. For the best results try jogging, rowing or swimming.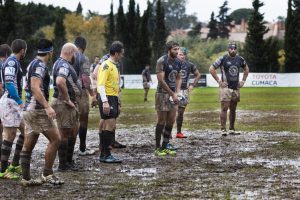 Weight training should be limited to only two sessions per week during season because you don't want to put too much strain on the muscles. Try to maintain a weight schedule as this will help build your muscles safely. For the best results try barbell squats, deadlifts or bench presses.
A great way to improve your performance whilst enjoying yourself is with training equipment. There are lots of things which you can use to enhance your training session such as training belts and tackle bags – take a look here!
Rugby Health Benefits
Builds Strength
Rugby is a great sport for boosting upper body strength because of the constant tackling and passing. Rugby also develops leg muscles because of the strength needed in a scrum.
Cardio
Improves the body's cardiovascular system by building a strong heart and lungs to deliver oxygen to the muscles quicker. Rugby is a constant movement sport, with players running and sprinting across the field often.
Stress Reduction
Like with any sport, the release of endorphins helps lift your mood and aid a better night's sleep. As well as stress reduction, Rugby also helps build resilience to stress.
Increases Bone Density
Regularly playing Rugby will help increase bone density. This is because exercise imposes stress on the bones which then stimulates the deposition of calcium. Therefore, playing Rugby can in fact reduce the chances of developing osteoporosis later on in life.
Now you know all the ways in which you can get involved in Rugby. Mark Harrod Ltd supply a wide range of Rugby equipment which includes goalposts and training equipment. Visit our shop to browse!
[ssba]