As we move into 2019 we take a look back at 2018, a year to remember for Mark Harrod Ltd.
We share common goals with the country's sporting community, from elite Premiership football to the grassroots Sunday league game.
Our mission is to support football at every level of ability – men and women, girls and boys – including the physically challenged.
As one of the country's top sports equipment manufacturers, we enjoy close, enduring links with the nation's football governing bodies. We support the England Amputee Football Association (EAFA) and the English Schools' Football Association (ESFA) providing and delivering goalposts and ancillary equipment for tournaments and training under a continuing programme of provision.
There for the end-game
In summer, we renewed our commitment to the schools and college footballing movement by once more partnering with the ESFA as its Official Goalpost Supplier, supplying 7-a-side goals to the ESFA's national finals season climax in May using our own vans to transport them to prestigious venues. 
Fully assembled in aluminium for greater strength, with nets and counterweights, the goals are ready to roll as soon as they arrive on site, saving them the trouble of assembling them and freeing up time for setting up   the showpiece events.
Brought into play for the ESFA's Danone Nations Cup U11 7-a-side competitions, our equipment will be in prime position for a major milestone this year. 
The winners of the Inter-association tournament from both this season and next will compete in Barcelona at the Danone World Cup Finals, along with the two winning girls' teams – the first time in ESFA and Danone Nations Cup history.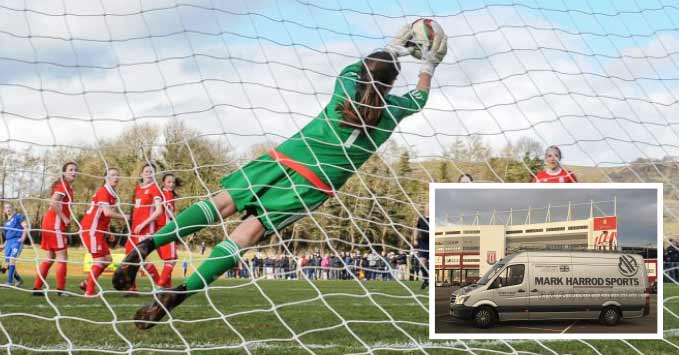 Premiership passion
Wolverhampton Wanderers FC kicked off its currently robust campaign in the Premier League with upgrades at its Molineux Stadium home that included Mark Harrod Ltd new match goals.
A long-time supplier to the club, we delivered and installed the socketed goalposts, nets and net support posts ready for Wolves' first home game of the 2018-2019 season against Everton FC.
Part and parcel of their commitment to meet the Premiership's higher-level requirements, the new goals proved "the cherry on top of the cake" for Head Groundsman Wayne Lumbard, complementing the Desso Grassmaster pitch laid last year. "We know we can rely on the company to supply a premier service for what is now a Premier club," he adds.  
The aluminium powder-coated white 24ft x 8ft match goalposts form part of a package of provision for the Midlands club that includes warm-up goals for their pioneering Sir Jack Hayward training ground and academy base nearby, which hosts a season-full of competitive matches across the U7 to U18 age groups.
The training centre includes Mark Harrod Ltd's Ball Stop net system, freehanging 420S Box Nets and aluminium 1m x 1.2m Target goals. 
Whatever sporting level utilises our goals, every Mark Harrod Ltd product conforms to British Standards and health and safety guidelines under our commitment to playing a major role in shaping the future of goalpost quality, from grassroots to international level.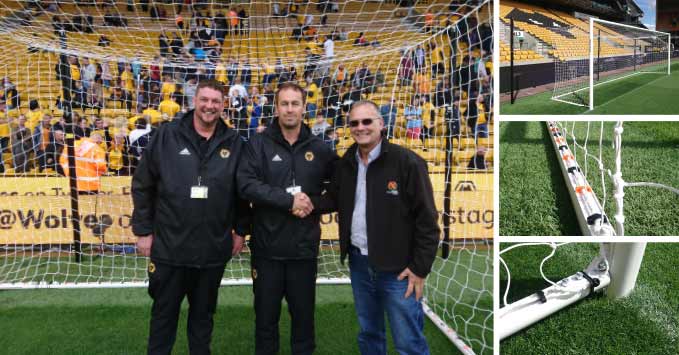 Vital Support for World Cup bid
England's amputee football squad for battled at its own World Cup in Guadalajara, Mexico, in November, Mark Harrod Ltd can reflect with pride on our support for the squad's training build-up at its Nantwich, Cheshire base. 
Reliant on sponsorship money and donations, the England Amputee Football Association (EAFA) needs lifelines like the equipment provision Mark Harrod Ltd donated to enable the squad to compete on a level playing field against countries running paid programmes.
Our Premium Easylift goals package features 16ft x 7ft international standard wheeled goalposts that can be quickly placed in position for training then conveniently moved away after play.  
"Many of our players served in the military, losing limbs in conflict," explains EAFA Head Coach Owen Coyle. "The significant donation was timely as it was critical the squad trained using the correct specification of goalposts. A huge weight was lifted off our shoulders in the World Cup run-up."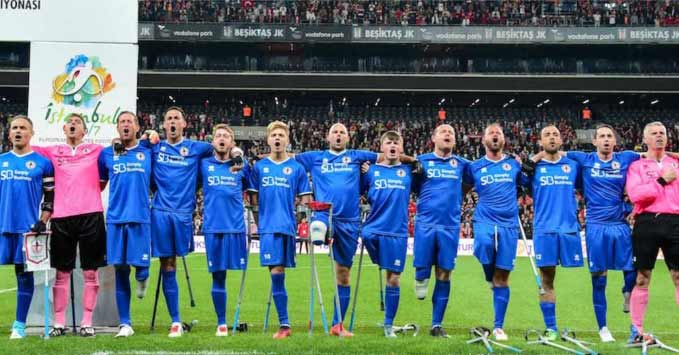 Backing a winner
Gordon Evans knows a thing or two about raising sporting funds, having garnered six figure sums to power the development of Stafford Town Partnership. 
He founded the club in 1976, however had to leave in 1984 due to promotion and work commitments, but returned as chairman in 2002 to transform its fortunes into a thriving Chartered Standard Community Club, complete with new ground bearing his name, 3G community pitch, run in partnership with Stafford Borough Council plus match and training grass playing surfaces. 
Gordon applied his skills as a logistics director to project manage the £1m stadium construction process and the synthetic turf facility. In doing so he helped create what is now a vibrant footballing hub, also handling financing and negotiations with funding authorities such as the Football Foundation.
Mark Harrod Ltd has worked closely with Gordon for a decade, field-testing our new products at the stadium, sponsoring the club with perimeter advertising and placing a full-page advertisement in every match-day programme.
We helped Stafford celebrate in 2013 when a group MBE Queens Award for voluntary work was conferred on it.
Fundraising never stands still though and Mark Harrod Ltd regularly supports fundays, providing goals and other equipment for the day's activities organised by the Staffordshire County Senior League Step 7 club.
Our goals regularly see action at the Evans Park home of Stafford Town FC – for all genders and age groups, for 7-a-side, 9-a-side and 11-a-side. Along with English schools matches plus internationals, college activities and tournaments.
Gordon could not put it better when he says: "We look forward to helping those who help us." That's how we feel too.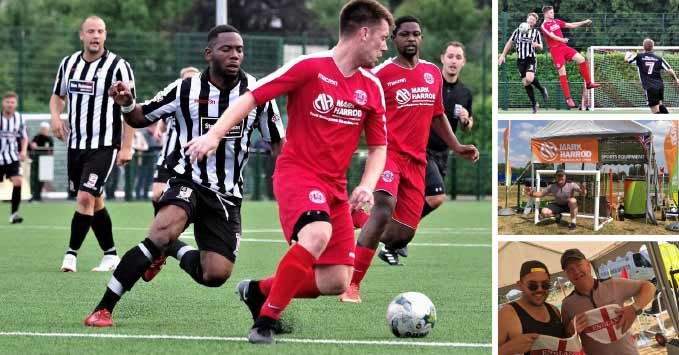 The social side
We always seek new ways to engage with grassroots sport and applied our social media skills earlier this year to launch a competition on Facebook to win a pair of 12ft x 6ft aluminium goals.
The campaign attracted more than 4,000 likes, Charnock Girls FC emerging winners. "Perfect timing", according to club chairman Michael Carl, who also coaches the U13s. 
Formed just three years ago as an offshoot of Charnock Ridgeway FC boys, the club is fielding U9, U10, two U11s and an U13s this season.
Outgrowing their local council park, Charnock Girls recently moved base to rent Sheffield Springs Academy's extensive facilities, hiring their 3G pitch for training on Tuesdays and Saturday matches.
"Everything costs," says Michael, "so we were really chuffed to win the competition, as finding the money to buy equipment is difficult." 
Girls' football is taking off across Britain and Mark Harrod Ltd is delighted to be helping support that growth. What began with a National Lottery grant for Charnock Girls FC, funding just three girls, has blossomed into a bustling entity of 65 madly enthusiastic youngsters now registered on the books.
They also landed a training kit sponsor to boot.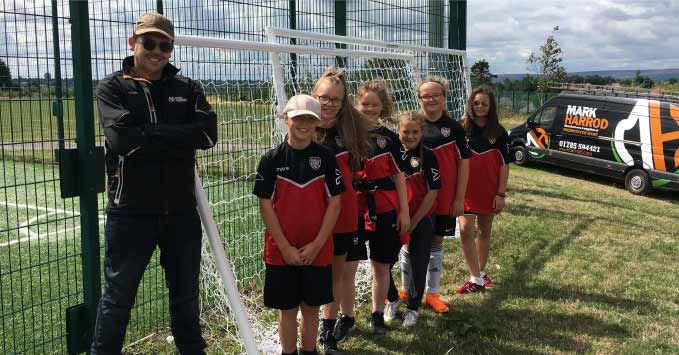 Commitment to sport
In summing up Mark Harrod Ltd's stance on supporting the nation's sporting community, Head of Sales Mike Bugajski, states: "We cherish our obligation to delivering premium quality, safe, equipment right across sport."
"Our deepening commitment to helping ensure that all levels of football continue to develop, often in the face of revenue and funding challenges, remains a key priority for us."
2019 is going to be a great year for us, we have some intriguing developments in the pipeline. Look out for changes in our range with many of our products being updated and some brand new products that could really change the game.