Footwork is incredibly important for football agility. Being able to move your feet quickly can have a big impact on your performance. Improving your footwork speed can help you sprint, change direction, block and tackle.
Keeping your technical ability sharp at home can be a little trickier than training to stay fit and strong. However with some markers such as cones you can setup a simple course for practicing your footwork drills.
Manchester United star Paul Pogba ran through a basic footwork drill challenge alongside his team-mate Victor Lindelof at the beginning of lockdown on Instagram, which can be watched below (Please note these are not Mark Harrod products and in no way are we affiliated with this video)
View this post on Instagram
This drill involved short sprints, dribbling the ball in and out of markers, completing a circuit on the agility ladder then finishing with a pass or shot followed by sprints. Agility ladders like the one used in the video are useful tools to help improve stride, footwork, and co-ordination.
Speed drills
Football Speed Training is an essential and very important part of football player ability. From a player's point of view if they are able to get to a 50-50 ball first, outsprint an attacker or go past a defender then they are more likely to go further in the game.
One straightforward example of speed training which many players will be familiar with is cone interval sprints, where a player sprints to and back from various cone markers. It's an entirely functional drill as it emulates an action that regularly happens on the pitch, such as a sprint into space or backtracking to mark a player or fall back into position.
If you are looking to get some practice in at home take a look at our Garden Training Kit. It includes all you need for some simple at home drills: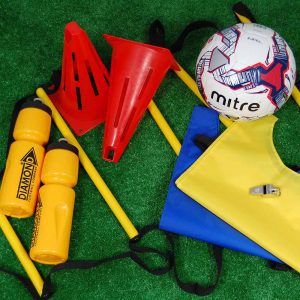 What's Included:
1 Size 4 Ball

2 Split cones for training

2 Overhead Bibs (Specify size at checkout)

1 Whistle

1 Sports Bottle

1 Round Rung Speed Ladder
#JoinTheWinningTeam
[ssba]