Premium Heavy Duty Goals – Steel Package – 4.88 x 2.13m
16 x 7ft
76mm
4.88 x 2.13m
76mm Steel Socketed Goal
76mm Steel Socketed Goal Show More
76mm Steel Extra Heavy Duty 16 x 7 Football Goal Package
The 16 x 7 Steel 76mm Goal Package conforms to BS EN 16579

76mm steel frame



Durable powder coated finish

Supplied with: sockets, Net Stanchions, Nets, socket caps, crossbar net hooks and 7″ net pegs for anchoring


Dimensions: 16 x 7ft (4.88 x 2.13m)




Lock in uprights are available for this frame. Contact us for details
For frame only see FOT-094
76mm steel frame



Durable powder coated finish

Supplied with: sockets and socket caps, crossbar net hooks and 7″ net pegs for anchoring


Dimensions: 16 x 7ft (4.88 x 2.13m)




Lock in uprights are available for this frame. Contact us for details.
Made from 32mm zinc plated steel

Conforms to NPFA recommendations

Standard net

3mm poly twisted twine knotted

2.2m runback

Comes in white

16 x 7ft (4.88 x 2.13m)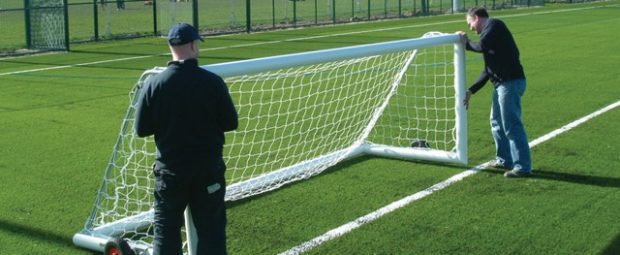 Download our maintenance guide for advice and guidance on installing, checking and maintaining your sports equipment.
Download
As one of the UK's leading goal post manufacturers we are totally committed to the issue of goal post safety. This guide provides important facts and guidelines to ensure that all goals and equipment are safe in use and whilst being stored.
Download