Remaining fit during these times is important, but it can be a daunting task. Now more than ever you must ensure you are safe whilst playing sport. Here are some ways you can stay safe while enjoying your favourite sporting activities. Remember to check the GOV.UK website regularly to ensure you are up to date with the latest guidance.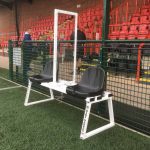 Social distancing bench
Social distancing benches are the perfect way to sit and enjoy sports with teammates, whilst appropriately social distancing yourselves. The 3mm clear polycarbonate divider with angled aluminium frame is an easy to clean surface which makes it very hygienic. Take a look at the bench here!
Samba Respect Barrier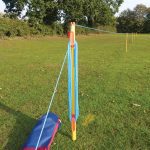 This respect barrier can be used to control social distancing outdoors. Consisting of 6 poles, 60m of rope, 2 quick release clips, 2 ground anchors and a carry bag. The Samba respect barrier is quick and easy to assemble and pack away, requiring no tools. The 60m Samba respect crowd barrier is suitable for one side of a mini soccer pitch. Two sets can be joined to make a 120m barrier for a senior pitch. Take a further look here!
Social distancing floor stickers
These hard wearing anti-slip floor stickers are the perfect social distancing reminder. With 6 stickers available, they can be bought in packs of 10, 20, 50 or 100. We have stickers appropriate for both indoor and outdoor use so that you can carry on playing knowing you are safe.
Click here for indoor stickers
Click here for outdoor stickers
Precision rubber markers
These sets of 15 markers are a quick solution to managing social distancing in sports halls or outdoor areas. With non-slip backing, they are great for keeping players away from each other during training sessions, and also work well as a piece of training equipment.
Mark Harrod Ltd have a wide range of social distancing signage, markers, and screens. Visit out shop to browse! Please regularly check the GOV.UK website to make sure you are up to date with the current guidance.
[ssba]