Here we are in 2020 and what a year 2019 was…
In support of all levels of sports in the UK, we worked hand in hand with Premiership Football Clubs through to grassroots football supporting the up and coming talent in both the boys and girls game. We managed to combine supplying equipment to football at its most elite level both in the able-bodied game and the game for those with physical impairments.
It wasn't all about football though, as ever many of our customers come from rugby, hockey, cricket and many other sports, at all levels. We worked on one of our largest ever projects within the rugby world in 2019.
Devoshift, the portable goal revolution
We couldn't talk about 2019 without mentioning the most innovative product to grace a football pitch in years. You got your first glimpse of this new multi-directional portable goal back in January when we released our 'Spy video' which gave you a brief look at what was to come. In February with the 'The mobile goal revolution' prototype video, we showed our initial testing on a 3G pitch.
In March, two years on from the DevoShift's initial design we were ready for a long term test. The new goal was designed for use on high quality and synthetic pitches, where it could be manoeuvred with ease in all directions, giving it greater mobility over any other portable goal that had gone before. Who better to test the goal than our friends at Wolves. Wolves took delivery of a 12×6 DevoShift goal and put it through its paces at their Sir Jack Hayward Academy home at Compton. It was used (and probably abused) for 8 months before we felt we were ready to roll our finished product.
Wolves loved the concept and the promise the goal initially showed was proven through the testing period. Wolves became the first of many top-level clubs to place an order and they received their first pair for their U23 and U18s show pitch in November.
DevoShift Goals are available here
See our videos at the links below: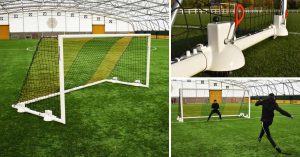 Continued support for the English Schools' FA
For the fourth year, Mark Harrod Ltd was proud to be able to demonstrate its commitment to grassroots football with its partnership with ESFA. As Official Goalpost Supplier to the schools' football body, we gift goals every year for use at the Playstation Schools' Cup three-day national finals which this year were held at the West Bromwich Albion Hawthorns stadium.
Mark Harrod Ltd also provided 4 pairs of 7-a-side goals for the South West U11s English Schools Cup finals. For both events, Mark Harrod Ltd not only provided the equipment but delivered and installed it too.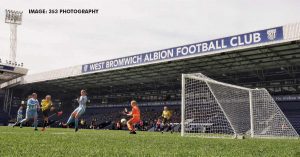 Elite football to Elite Football
Back in January 2019, Mark Harrod Ltd was again invited to supply goals for the Star Sixes event this time held at the SSE Hydro, Glasgow. Another star-studded occasion featuring the likes of Robert Pires, Jay Jay Okocha, Michael Owen and Owen Coyle. Along with other equipment we supplied a pair of our Top Flight 9v9 box net style goals for the main arena.
Once the tournament had finished and we recovered the equipment we made contact with our charity partner the England Amputee Football Association. EAFA were in need of a pair of 9V9 goals for tournaments and training at their base at Reaseheath College. it was agreed that we would donate and install these elite goals on-site on the day of one of EAFAs competition days.
Scottish football hero Owen Coyle Senior played at Star Sixes and his son and namesake EAFA Head Coach Owen Coyle was delighted with the new equipment and said; "We are extremely grateful and thankful to Mark Harrod Ltd for their charitable donation. It's imperative we (EAFA) train at our maximum with the best possible staff, players, and facilities available to ourselves with our limited resources. We are very lucky to have the quality in those areas in abundance, an example of that is our outstanding partnership with Reaseheath College. With the enormous support of Mark Harrod Ltd they have ensured our equipment can equally be at that quality-mark which will help the England teams reach their full potential in the coming years."
Read more and see a short video of the day here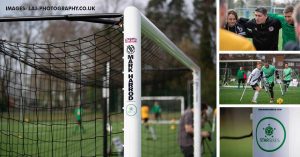 Safety first – Devolift
Wheeled goals were a bit of a theme in 2019. Back in 2004, Mark Harrod Ltd designed the Easylift portable goal system which allowed the goal frame to be easily lifted off the playing surface to be moved around the pitch. In 2019 we have updated the design and are about to introduce the DevoLift wheel system. Like the much-loved Easylift wheel the Devolift is a simple back and forth wheel system with a handle you turn to lift and lower. In order to conform to new safety standards that are being introduced the new wheel system has all of its working parts encased within the chassis. This new design removes the risks associated with entrapments, crushing and shearing. Devolift will be on sale in 2020.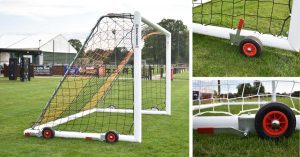 High in the League with Wolves
We had another great year working with Wolves head groundsman Wayne Lumbard and his team to deliver the highest quality equipment and with their feedback to innovate new products. In March we delivered our prototype DevoShift multi-directional goal for testing at their Sir Jack Hayward Academy.
Working with Wayne's team we developed a new goal trolley system, a heavy-duty multi-directional trolley to enable the user to easily move a full-sized set of football goals around the pitch. The trolleys for Wolves were to be used to transport their Mark Harrod Ltd warm-up goals at the Molineux stadium to be used before every Wolves game. More information about the Premium Football Training Goal trolley can be found here > https://www.markharrod.com/product/premium-football-training-goal-trolleys-pair/
Our biggest project for Wolves was yet to come – At its training base, Wolves have a family of pitches including Desso Grassmaster full-size surfaces the academy hosts a number of competitive matches across U7s to U23s age groups.
Wayne engaged with Sean the MD of Mark Harrod Ltd in order to establish an equipment package for their show pitch. We supplied and fitted Duralock white post and rail perimeter fencing with gates, bespoke dugouts, ball stop netting system, box net goals, aluminium target goals and warm-up goals. Of course the icing on the cake was to supply and fit the first-ever production pair of 11-a-side DevoShift goals.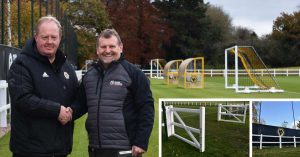 Support at every level
Mark Harrod Ltd continues its support for the non-league game with the sponsorship of two of our local teams, Stafford Rangers FC and Stafford Town FC with support including funding help and equipment supply. New to our roster of partners this year is Brereton Town U14s mixed team for who we gifted a pair of Easylift goals and Staveley Welfare Miners U14s girls team with a deal which enabled the girls to have a very smart orange away kit emblazoned with our brand.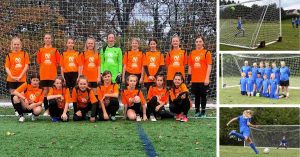 #NotJustFootball
This year saw the opening of a brand new sporting facility local to Mark Harrod Ltd. Stafford Rugby Club was relocating to a new site. Coopers Park, a brand new facility boasting several pitches for rugby and football and a licensed clubhouse.
A big project but Mark Harrod Ltd were there to supply and fit all the brand new equipment to ensure the facility had everything it needed to launch. From boot wipers and corner flags to shelters and the rugby posts we delivered and installed it all. We even supplied portable football goals to help ensure the club and the local community get the best use of the ground.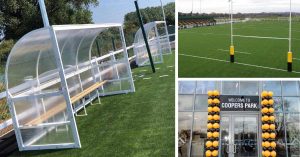 Mud Stopper Evolved!
It wasn't just about goals and shelters at Mark Harrod Ltd in 2019 there was so much more to innovate and evolve within the sports equipment industry. Boot wipers are a must-have for any field sports club especially here in the UK. We have been producing and supplying this club essential since our start in 2004. During this time not much has changed but our latest Premium and Elite designs have moved boot wipers to the next level in 2019. The new wipers feature an angled 'wraparound' brush layout that ensures boots are cleaned on the sides and not just the bottom. A more ergonomic angled brush makes for an easier clean whilst discouraging the user from standing on the brushes. Players standing on and crushing the brushes is one of the major contributing factors to the wear.
These new mud stoppers are manufactured in-house by our dedicated team using materials from the UK.
See our range of Boot Wipers here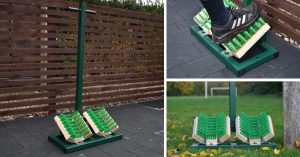 Our best year yet!
And we are not just saying that it really has been. We have worked with some great teams and businesses at all levels. We have strengthened our development of innovative new products and we have committed ourselves to help develop sport from grassroots up.
We hope that 2020 goes just as well. There will be more development of our product range and services and a huge focus on innovation in an effort to truly evolve sporting equipment throughout the UK and beyond.
[ssba]