UPVC 3-in-1 Training Goals
12 x 6ft
UPVC
3.66 x 1.83m
We manufacture only the best quality football goals, and we demand that same quality from our suppliers.
We manufacture only the best quality football goals, and we demand that same quality from our suppliers. Show More
UPVC 3 in 1 Goal with Locking System
This kit makes EITHER 1 – 12′ x 6′ goal with plastic corners and a locking system, OR 3 – 4′ x 2′ target goals. The kit comes in a large wheelie bag for easy transportation.
All UPVC goals are 100% manufactured in England with the exception of the net.
Please note the 12×6 net is white.
Goal features:
A precise locking system throughout the goal adds strength to the frame, this goal will easily tolerate shots from an adult.
Constructed using high impact shatterproof uPVC material with robust corners and connectors. We manufacture all components in our UK factory, to ensure the highest quality standards are maintained.
Extra heavy-duty net, 2.5mm twine thickness with 100mm x 100mm squares. This net meets the new head entrapment safety guidelines.
Quality assured, this goal is independently tested to a European standard -EN71.
Leave this goal assembled all year round, in all weathers. Absolutely no maintenance required.
Supplied with fastclips (manufactured in the UK). These clips are very efficient when securing the net on or off, even in cold climates.
This goal will not move; once anchored down, the sturdy metal ground anchors will keep the goal rigid even with the strongest of shots. The metal anchors measure 8mm diameter and 10" long.
Assemble your goal by following our simple step by step instructions.
With the purchase of this goal you will receive a 1 year no quibble guarantee and a full service back up. All spare parts are available.
Goal includes:
Net
Net clips
Metal ground anchors
Carry bag
Locking system
Goal Specifications:
EITHER 1 – 12' wide x 6' high x 4′ 4″ deep goal OR 3 – 4' wide x 2' high goals
12 x 6 goal weight = 15kg
4 x 2 goal weight = 6kg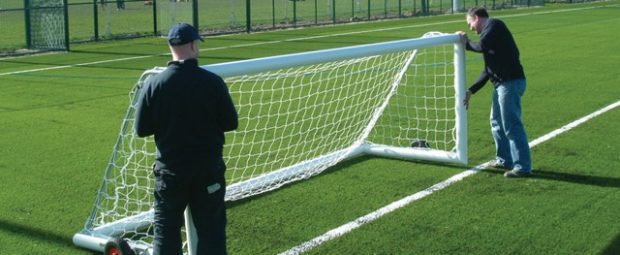 Download our maintenance guide for advice and guidance on installing, checking and maintaining your sports equipment.
Download
As one of the UK's leading goal post manufacturers we are totally committed to the issue of goal post safety. This guide provides important facts and guidelines to ensure that all goals and equipment are safe in use and whilst being stored.
Download